Landscape & Hardscape Services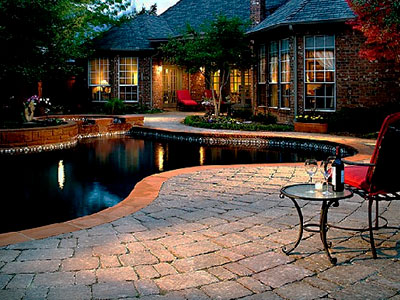 Red & White Greenery has been providing high-end landscaping design, installation, development, and maintenance services since 1983. We use the most cost-effective and innovative design and installation techniques to enhance the beauty and functionality of your property. From initial consultation to completion, we keep you within the loop at each stage. This helps us ensure that your ideas, visions, and dreams are translated into reality.

We understand the importance of your landscaping budget and expectations. Our project designing system is empowered with a Digital Imaging Software to provide you before and after images of your project. From plantscapes to hardscapes to water features, we design and build everything to your specifications. We provide custom lawn and landscape design services and our Organicare program allows you to enhance the beauty and health of your greenscapes. Our experts specialize in creating beautiful outdoor living areas with all the features you will require to expand your living space. Explore the different services that we offer in Austin and the surrounding areas.


Landscaping
We have a proven track record of high-quality and innovative landscape services. We believe that our clients deserve the best in landscape design, build, and maintenance. Our professional landscapers have decades of combined experience in all areas and stages of landscaping. Your front and back yard have the potential to be beautiful and functional areas for plants, gardens, trees, water features, paver installations, and more. Our landscapers have the tools, experience, skills, and resources required to create a landscaping experience of your dreams.

Besides focusing on making the space beautiful and inviting, we also take steps to make your landscape a functionally viable area for your lifestyle. Your outdoor areas must create a space for your family to relax, find comfort, warmth, and something to feel proud of. Our team of landscaping designers, architects, and installers will work closely with you to transform your ideas into reality. Read More About Landscaping »


Hardscaping Design
Our hardscaping design services can help transform your backyard space into a focal point that is attractive and functional. Some of the common hardscaping elements that we design include driveways, patios, walkways, steps, retaining walls, and fencing. We create design elements that add functionality, dimension, and are appealing. Your hardscaping installations will further help boost your property's curb appeal and value.

The use of pavers, stone, rocks, concrete, and bricks can help create elegant patios, yards, pool areas, and garden areas. One of the advantages of hardscape installation is that these sturdy and durable features require minimal maintenance. The features do not need watering, shaping, or trimming. They also help expand your entertainment areas, allowing your family and friends to spend quality time outdoors. Installing custom-designed retaining walls can also help prevent soil erosion and add greater dimension to your landscape. Read More About Hardscaping Design »


Pavers
We provide paver design and installation services, creating customized solutions to meet your lifestyle requirements and to complement your home's architecture. Our designers and paver installers ensure that all aspects of your project are completed to industry standards. Our experienced and well-trained team works toward creating outdoor features meeting your specific requirements and expectations. From a new paver driveway to patio to pathway, we can design and create an outdoor space that meets your vision and ideas.

We install paver driveways that add character to your property and enhance the curb appeal. Decorative pavers are available in a world of design and color options, providing a customized look to your driveway. Our paver pathway installation services help bring a custom look to your yard. We will help you choose the right paver color, size, patterns, and shapes to complete the customization process. Pavers are a material of choice for patios. We use pavers from reputed brands, bringing quality and longevity to every project we handle. Read More About Pavers »


Retaining Walls
Retaining walls serve many purposes, besides their aesthetic value. We design and install custom retaining walls using a variety of materials. When your yard has changes in pitch and elevation, we will consider installing one or more retaining walls. We can also install retaining walls that hold landscaping features such as planting beds. If your landscaping has any changes in elevation, adding a retaining wall can play an important functional or aesthetic role. Many times, retaining walls are the only solution in preventing soil shifts or erosion.

Our experienced crew specializes in designing and constructing retaining walls that resist the lateral pressure of the soil due to seasonal changes. We can also repair or remove older walls and reinstall them based on professional planning and design. Our team uses natural stone, concrete blocks, manufactured stone, landscaping ties, and railroad ties for building retaining walls. Read More About Retaining Walls »


Tree Trimming, Pruning & Maintenance
Tree trimming, pruning and maintenance are essential in maintaining the beauty and health of your trees. These services also minimize the risk of falling branches. Our expert tree care services provide comprehensive tree services to enhance their lifespan and increase your landscape's beauty. A well-planned pruning schedule helps enhance your trees' appearance, minimize storm damage, build the structure for future growth, prevent risk of limb failure, and provide clearance for building structures and sidewalks.

We have certified arborists on our team. This allows us to provide verified tree care. We plan and budge your leafy assets in a proactive manner. We pay special attention to each tree on your property. Every tree requires custom care. There is not just one way for pruning a tree. Different trees require different types of techniques. Our arborists will prune and trim your trees, ensuring the right technique is used every time. Read More About Tree Trimming, Pruning & Maintenance »


Irrigation
A professionally designed and installed irrigation system can help keep your landscape in its peak condition. We design and install new custom irrigation systems for your lawn and landscaping or upgrade your existing system or add new zones to adapt to the changing needs. Our technicians specialize in designing and installing water-efficient sprinklers that can be adapted to your changing needs and existing systems. Our use of rotator-style heads has helped our clients save 30% on their water usage.

We also specialize in installing low-volume drip irrigation systems that help the water to reach the plant's root zone. This minimizes evaporation and optimizes water absorption. The result is less watering is required. Our technicians can install smart controllers to ensure that your lawn and landscape is watered automatically based on the weather, soil-moisture, and other conditions. The use of rain sensors can further ensure that there is no risk of overwatering. Read More About Irrigation »


Water Features
We design and create elegant and soothing backyard by adding water features such as fountains, waterfalls, and ponds. Our crew has decades of combined experience in transforming the atmosphere of landscapes. Flowing water has a magical, calming, and refreshing effect on the senses. Our experienced designers and technicians can install a new water feature or upgrade an existing pond, fountain, or waterfall to accommodate your landscape changes.

We design and build outdoor fountains in all kinds of shapes, styles, and sizes. Your fountain can be installed to create a center piece or positioned in a corner of your yard. You can have additional features such as a modern wall fountain or a cascading waterfall added to enhance your property's beauty and the overall experience. Our team can design a water garden of your dreams with plants and flowers of your choice. We also help you choose the right type of plants for your waterscape to minimize maintenance and enhance the space's beauty. Read More About Water Features »


Organicare
Our dedicated lawn care and management services can help you create a beautiful and health lawn. Our Organicare program focuses on the application of organic fertilizers, micronutrient soil enhancement, and natural pest control. It is not just limited to organic lawn care, but also includes organic shrub care, and tree care. Lawns depend on the soil they grow on. We are focused on ensuring the soil becomes alive with all kinds of microscopic biological life to sustain the growth of the grass.

This requires us to avoid the use of high nitrogen and high salt fertilizers and pesticides. Our Organicare program helps your lawn to thrive in soil that promotes deep roots, excellent drought tolerance, and resistance to insect and disease. We will nurture the soil with the right organic matter. This includes multiple applications of organic matter in a year to create biologically active soil. Read More About Organicare »


Custom Iron
Our custom iron design and installation services help enhance your landscape's beauty. These features have both aesthetic and functional value. They bring a greater definition to your plantscapes and hardscapes. Our custom designs can help you make a strong statement in the form of garden gates, a balcony railing, a grill insert in your fencing, or a front door. Custom iron can be designed to accent your porch columns, a garden gazebo, or a water fountain.

Out designers will work with you to have the artistic motifs custom designed to your specifications. Decorative iron also helps bring a greater sense of security and safety to your property. We can design and install driveway gates, beautiful iron fences, window balconies, and any other feature to your specifications. Iron allows all the flexibility in design and aesthetics, and we have the expertise in transforming your ideas into reality. Read More About Custom Iron »


Try Before You Buy
Landscaping is a major investment, and you want to ensure that you are getting exactly the results you have in your mind. We have developed a specific program to allow you to see the before and after pictures of your project during the conceptualization phase. This is made possible with our Digital Imaging Software. You can see your landscape design and elements taking form in a realistic manner. Our software goes beyond showing you a blueprint. Over the years, this tool has allowed us to achieve 100% success rate with our clients. You can see your project how it will look after completion, even before we start the installation process.

This approach and technology will eliminate any room for guess work. From new installation to landscaping modifications, everything takes place right before you. We understand the importance of your landscaping budget. This program allows us to meet and exceed your expectations. Read More About Try Before You Buy »

If you want to discuss your landscaping project with us, feel free to contact Red & White Greenery at 512-930-4707 or send us your queries using this Online Form.